Trophy Whitetail Deer Hunts
We invite you to come see for yourself what keeps our clients returning year after year for our Oklahoma guided Whitetail Deer hunts. Come enjoy a truly unique hunt in terrain that varies from the breath taking Red River valley to the rugged rocky mesas a few miles
to the north. We offer the chance to hunt Whitetail in a setting like no where else in North America
On top of that, we have incredible deer! We maintain a stringent management plan involving only harvesting mature bucks (4.5 yrs plus), and maintaining a 1 to 1 buck doe ratio. Hunters can expect to have an opportunity to take a buck in the area of 140 to 155 inches B&C. However we have 170" plus deer every year. Our deer also have very unique genetics with numerous kickers, splits, and even the occasional droptine. Our deer are big bodied as well, averaging 200 lbs. plus. On a typical day, hunters see 10 bucks or more.

We offer fully guided hunts using rifle, muzzleloader, or archery equipment. Blinds are strategically located in prime transition areas close to either a feeder or food plot. We also use spot and stalk methods when appropriate. These are true guided hunts , we are experienced deer hunters who have hunted these properties for years. We spend countless hours scouting and preparing these areas so you need not worry about an unprepared setup. Your hunt includes transportation to and from hunting site, guide, and field dressing of any animals taken. A guide will accompany you while hunting to help age deer if desired. We hunt over 13,000 acres, all of which are low fenced to ensure fair chase. We limit harvest to only 20 bucks per year. Hunters are allowed 1 buck and 2 doe and unlimited hogs! There will be no more than 5 other hunters in camp during your hunt.Each deer hunt is a five day, five night hunt with all meals and lodging included. This is my passion, you can be sure you will get 100% effort!

Archery hunts are done primarily from popup ground blinds. We have a few treestands but we never force anyone to hunt them if they are not comfortable. Shots average 25 yards. We usually only have 3 bowhunters in camp at once. Our success rate overall with archery is 95% shot opportunity. We do both early season archery hunts in early October and pre rut hunts in early November. This is our most overlooked hunt, we are very successful at patterning our biggest bucks during these times.

Our rut usually begins around Nov. 22 (during rifle season)
NO HIGH FENCE AND NO TROPHY FEES!

2018 & 2019 Shot Opportunity: 100%

90%+ SUCCESS RATE OVERALL

Crossbows are legal for ANYONE during archery season.

Price Per Person: Archery $3900

Rifle/Muzzleloader $3900
REPEAT CLIENTS' PRICE LOCKED IN FOR 3 YEARS.
Be sure and visit our facebook page for the latest trail cam pics and harvests! Link is at bottom of this page.

2019 Harvests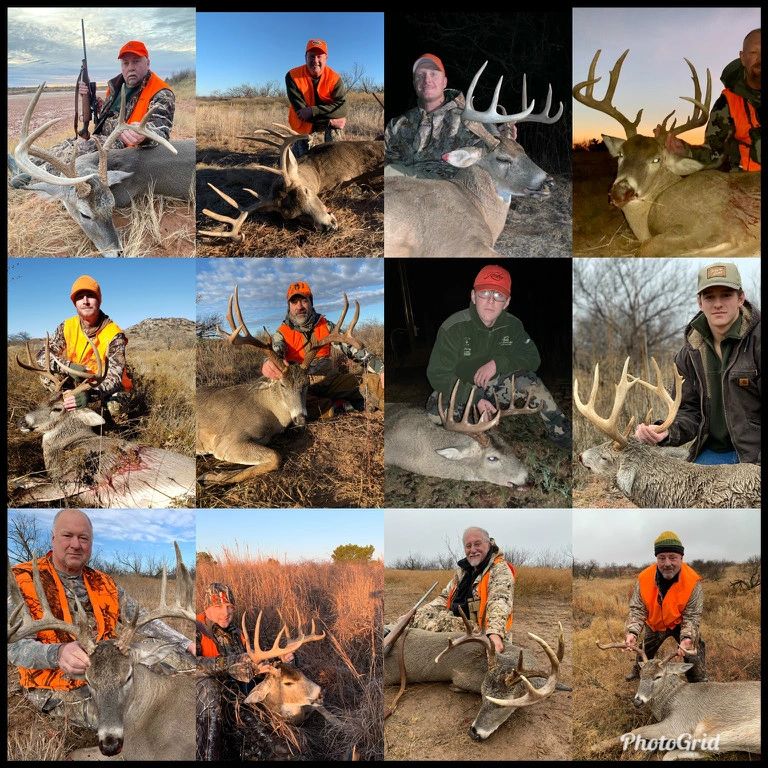 Video below is a collection of footage of trophy bucks on our properties.